You are able to contact Support at your convenience during the operational hours of 7:00 AM to 5:00 PM Central Standard Time. We are also available for emergencies, 24/7. This article will outline how to contact CivicPlus Support online and what you should include in your ticket.
Online Ticket Submissions
Support tickets can be submitted online via the Submit a Ticket with CivicSupport® Form. You do not have to sign in to your Help Center account to submit a Support Ticket, but we recommend it.
Please provide the following information (as applicable) to expedite your tickets or questions: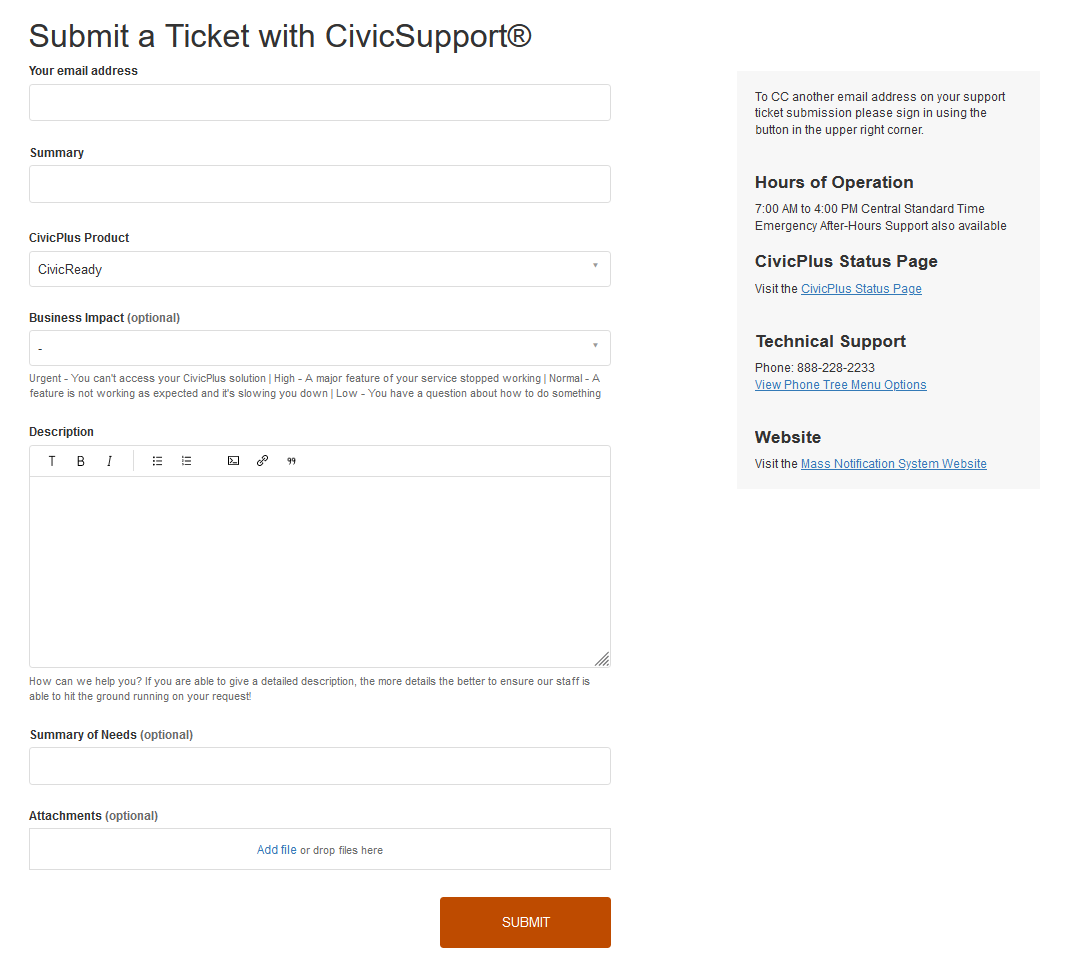 Your Email Address / CC (optional): Enter your email address (if you are not logged into the Help Center), or add an email address to carbon copy (if you are logged into the Help Center) if desired
Summary: Add a brief summary of the issue
CivicPlus Product: Select the CivicPlus product that you need help with (this field should auto-populate)
Business Impact (optional): Select the level of impact on your business

Low: You have a question about how to do something
Normal: A feature is not working as expected and it's slowing you down
High: A major feature of your service stopped working
Urgent: You can't access your CivicPlus solution

Description: Include as many details about the issue as possible

What problem are you experiencing?
How do you expect the feature to work?
Is this something you can recreate (not a system glitch)?
What steps were taken to get to the issue?
Have you taken any troubleshooting steps (for example, cleared cache and updated browser)?

Summary of Needs (optional): Add a brief explanation of what you need Support to do if desired
Attachments (optional): Attach screenshots, PDFs, Zoom screen recordings, scans, or other files that help explain the issue, if desired
Submit: Send your ticket to the Support team
Detailed tickets reduce the amount of time spent testing or gathering information which can lead to delays in resolution time.
Insufficient Ticket Submissions
Support tickets that lack detailed information can result in:
Delayed resolution process
Additional information needed for testing and troubleshooting
The proper issue may not be investigated properly